Skip to Main Content
It looks like you're using Internet Explorer 11 or older. This website works best with modern browsers such as the latest versions of Chrome, Firefox, Safari, and Edge. If you continue with this browser, you may see unexpected results.
Detroit Historical Society
The Detroit Historical Society was founded in 1921 and dedicated to the preservation of the history of the city and surrounding region. Currently, the Society operates both the Dossin Great Lakes Museum on Belle Isle and the Detroit Historical Museum, as well as maintaining a collection of over 250,000 related artifacts. The Society's Kahn related collections include a number of photographic prints of the architect's buildings and a binder of Michigan Bell Telephone Company building appraisals.
Contact Information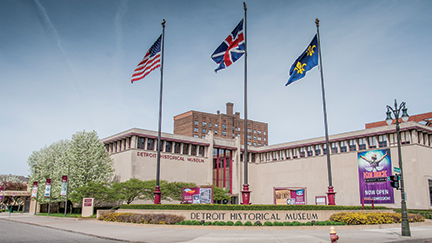 Detroit Historical Society Contact Information
Phone: (313) 833-1805
Address: 5401 Woodward Ave
Detroit, MI 48202